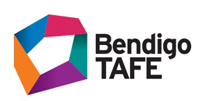 Bendigo TAFE invites past, present and new students to be part of our Welcome Desk team. Meet new volunteers from diverse industries and cultural backgrounds while gaining or practicing skills that volunteering opportunities offer.
Bendigo TAFE is celebrating NSVW as part of our new Volunteer and Mentor Program. We want to thank students who volunteer within our campus communities and invite more students to become part of our team at volunteer Welcome Desks popping up across a number of TAFE campuses.
Bendigo TAFE has been transforming lives for more than 155 years. The institute has a rich history of providing education for local people and preparing them for work in local jobs.
Through a network of five campuses, we deliver a wide variety of vocational courses to over 9,000 students every year. Our state of the art facilities and exciting programs create a dynamic and welcoming environment for productive learning.
Our Volunteer and Mentor Program is all about positive change. Through volunteering you can support our students to reach their full potential, enterprises to grow and our regional communities to prosper.
Apply for a current volunteer role today!
We welcome your new volunteer ideas.
At Bendigo TAFE we continuously seek opportunities to match a variety of volunteering interests.
Contact us: This email address is being protected from spambots. You need JavaScript enabled to view it.